Posted by The Cleaning Station on Dec 15th 2022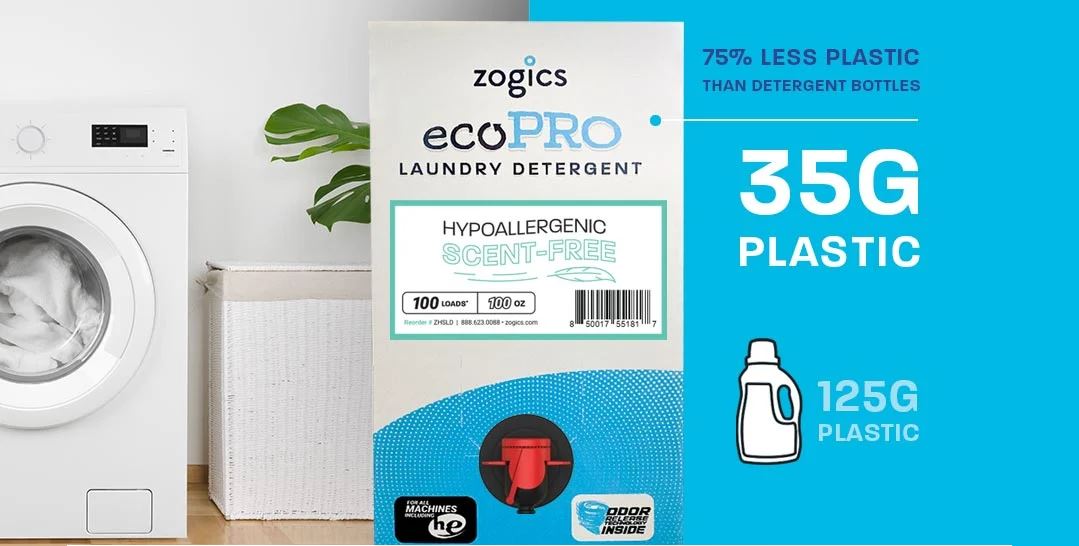 In this post:
Introducing Zogics EcoPro Laundry Detergent with Odor Release Technology
Eco-friendly packaging uses 75% less packaging than plastic bottles
Formulated with clean ingredients that are safe for you, kids and pets!
Say Hello to Eco-Pro Laundry Detergent!
Clean your clothes worry-free with Zogics EcoPro liquid laundry detergent. This eco-friendly detergent is hypoallergenic and unlike most detergents doesn't mask odors, it eliminates pesky odors! Zogics EcoPro contains Odor Release Technology that completely removes odor-causing bacteria from fabrics so clothes actually get clean and smell great. This detergent is formulated with natural enzymes and fragrances, giving you cleaning power necessary to clean without harming the environment or irritating your skin. An added bonus? Zogics EcoPro removes odor-causing bacteria in your washing machine, making it a natural washing machine cleaner as well, saving you the time and effort of cleaning your washing machine. Available in Lavender, Fresh Scent, and Scent-Free fragrance options, you'll love how your clothes feel after using EcoPro.
Responsible Packaging = Less Plastic
It is estimated that the planet uses 300 BILLION tons of plastic a year. About 150 million of that is only used once. The EcoBox packaging is 72% compostable and only 35 g of plastic, compared to traditional 50 oz. plastic laundry bottles, which are 250 g of plastic. That's an 86% reduction in plastic waste.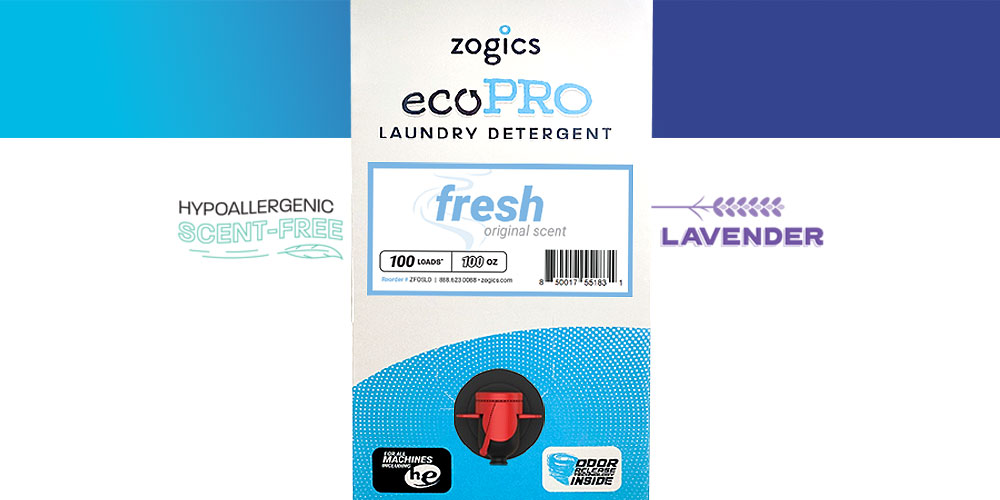 Cleaning that Cares
Not only is Zogics is doing its part to help curb the amount of plastic that makes its way to our landfills and waterways, but our laundry detergent is also formulated without any harmful ingredients. Formulated only with natural enzymes and fragrances, this laundry detergent delivers the best cleaning power without irritating your skin or harming the environment.

Don't mask odors with heavy perfumes! Thanks to the odor-release technology in Zogics EcoPro, your clothing and fabrics get completely clean and smelling fresh, naturally.

Product Highlights:
Eco-friendly liquid formula
Soothing lavender, fresh scent, or unscented
No harmful ingredients
Responsible packaging uses 72% less plastic than detergent bottles
Works in all washing machines
Perfect for athletic wear
Anti-static
Stain extractor
Color-safe
Naturally softens and removes odors
100 loads/box (1 standard load = 8-10 lbs laundry)